Connecting your Olarm to Wi-Fi using WPS Mode
Connecting your Olarm to Wi-Fi using WPS Mode
You can now connect your Olarm PRO to your Wi-Fi network using the WPS Mode, please note only 2.4Ghz Wi-Fi Networks are supported
On your Router

Press the WPS mode button on the Wi-Fi router
On your Olarm PRO



Once the Olarm PRO has been powered on

Wait for it to start flashing green


Press and hold the Fn button on the Olarm PRO for 5 seconds until it turns yellow

The Olarm PRO will then turn solid blue once connected to the Wi-Fi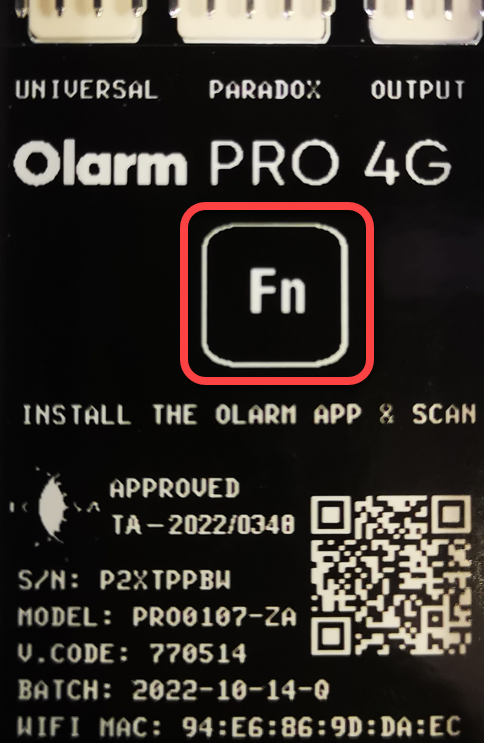 Olarm APP



Wi-Fi should now show connected in Olarm APP
Please note only certain firmware versions support this feature.

Firmware requirements:
4G, firmware 4.4.2 and up
2G, firmware 3.5.2 and up
Olarm PRO's from Batch "-M" onwards will come with Firmware able to utilize WPS mode out of the box, however older Batches will need to be updated before this feature will works.

The Batch is displayed on the back of the Olarm Radio as well as on the back of the Box.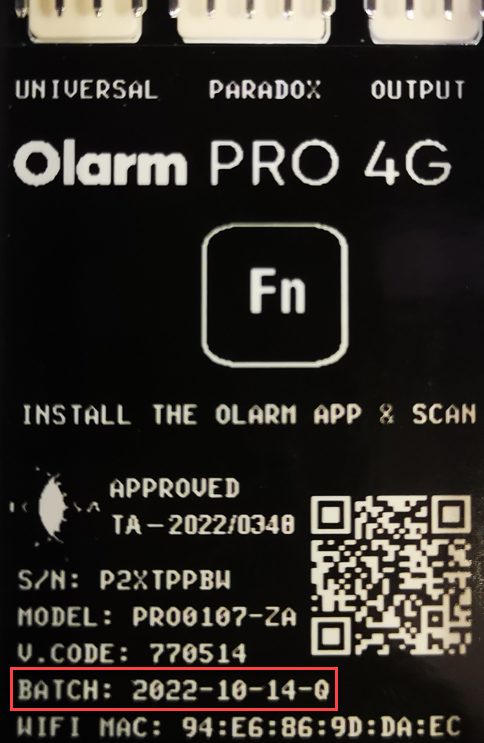 Related Articles

Olarm PRO 4G

Olarm PRO 4G The Olarm PRO now provides even better connectivity with support for 4G. 4G (also known as LTE) provides substantial performance improvements over previous mobile technologies, and our 4G device is designed to offer connectivity ...

Olarm States

App Statuses Main Menu The Olarm Main menu has 3 different states indicating the status of the Olarm Radio Online - The Olarm is connected to the Panel and Cloud Offline - The Olarm has either lost power or connection to the Cloud Problem - The ...

How to set up the WiFi connection?

Once the Olarm PRO has been added to the app, you will have a banner at the top for [WiFi Setup] or you can navigate to [Settings ("3 dots") > WiFi Setup] The Olarm will then scan for available network Select your preferred network Enter the WiFi ...

My Olarm is arming but is not disarming

Has your master code been entered into the app from [Settings > Olarm Setup > Master / Keypad code]?

I'm not getting notifications

The app will not receive Olarm app notifications if the app is open In the Olarm app, make sure that the [Push Notifications] is toggled on under [Settings] Your phone settings must have [Do not disturb] turned off On your phone, enable push ...